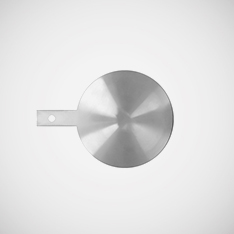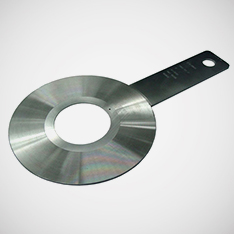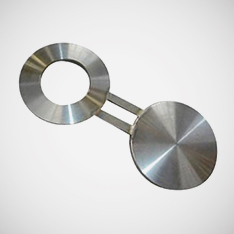 Trusted Line Blanks Supplier In Malaysia
Saliran Group has over 10 years of expertise in the supply of high-quality line blanks with numerous happy customers all around the world. We supply a variety of line blanks types such as spectacle blind, spade, and space.
Line blanks are a component that is inserted between two mating flanges and vessel connectors. Line blanks are functioning as placeholder or shutdown pipelines during servicing work to prevent leakage of fluid into another. These line blanks are customized to meet an extensive range of application requirements such as materials and dimensions.
| | |
| --- | --- |
| | Spectacle Blind, Spade, Spacer |
| | |
| | ASME B16.48, API 590, Petronas, Shell, Aramco, Exxon, Customer's Drawing. |
ASTM A694 F42/ 46/ 52/ 60/ 65/ 70

ASME/ASTM SA/A350 LF1/ 2/ 3/ 6

ASME/ASTM SA/A182F1, F2, F5, F9, F11, F12, F22, F91

ASME/ASTM SA/A182F304/304L, 316/316L, 317/317L, 304H, 321/321H, 347/347H, 310, 904L

UNS S31803, S32750, S32760, S32205, S31254 ASME/ASTM SA/A182 F51, F53, F55, F60, F44

ASME/ASTM SB/B564, UNS2200 (Nickel 200),
UNS2201 (Nickel 201), UNS4400 (Monel 400),
UNS5500 (Monel K500), UNS6600 (Inconel 600),
UNS6601 (Inconel 601), UNS6625 (Inconel 625),
UNS8810/8811 (Incoloy 800H/HT), UNS8825 (Inconel 825),
UNS10276 (Hastelloy C-276), UNS6622 (Hastelloy C-22)

HIC, PED2014/68/EU, NACE MR0175 available
Spectacle Blind: What is it?
Typically, spectacle blind is used to join together or permanently divide pipe networks. A steel plate with two discs of a specific thickness is known as a spectacle blind.
The two discs are held together by a steel component that resembles the nose piece of a pair of glasses. A solid plate makes up one of the discs, while a ring with an interior diameter equal to a flange makes up the other. Systems that frequently need to be isolated from other installations should use spectacle blind. A Spectacle Blind is often installed in the "open" position to allow for pipe passage.
Spectacle Spacer: What is it?
Spectacle spade and spectacle spacers are both members of the Line Blinds family. Together, they provide the same purpose as a simple valve, or what is known as a spectacle blind. The eyeglass spade or eyeglass spacer is positioned between two flanges and fastened with a bolt. When the line needs to be open, a spectacle spacer is utilised, and when it needs to be obstructed or closed, a paddle blind or spade is fitted. Only half of the bolts must be removed, and the Spade or Spacer must be switched out, to convert it from open to closed.
Spade Blind: What is it?
To avoid having to connect the pipelines together when a line is to be open, the spade blind is frequently used within conjunction with a standalone spacer. Blind spade deployments are exclusively used to isolate flows. Additionally, standalone spade blinds are substantially lighter than spectacles, making them ideal for applications involving extensive or intricate piping. Additionally, while replacing a spade blind, all flange bolts must be removed. The operator entirely eliminates the spade blind and substitutes it with a spacer that has the same thickness if the line is going to be put back in service.
Each round is joined by a little nose piece or tie bar rather than a handle, web, or tie bar. The finished product resembles a figure eight or a pair of glasses, which is how the component gets its name.
Spectacle Blind 
Installation Process
There are few stages involved in installing a line blank into the pipe system to guarantee appropriate sealing and operation. Here is a simple guide for everyone:
Ensure the spectacle blind you have chosen is suitable for the piping system.
Make sure the whole pipeline has been turned off or depressurized by following safety protocols and using appropriate equipment.
Carefully remove the bolts and nuts between 2 flanges that you like to install spectacle blind.
Position the spectacle blind between 2 flanges that you just remove bolts and nuts, the solid plate of the spectacle blind must face the fluid flow direction of the pipeline.
Insert 2 gaskets on both sides of the spectacle blind, confirm the bolt hole of the gasket and spectacle blind are matched to the flange.
Install and tighten up the bolts and nuts that connect the flanges, gaskets and spectacle blinds by using appropriate equipment.
Check the installation to make sure that the spectacle blind are properly aligned so the pipeline system can work properly.
This is just a general installation process for installing a spectacle blind into a piping system. It might differ following the regulation of industry, piping systems and other factors. It is recommended to consult a qualified professional If you are unsure about any procedure.
Spectacle Blind vs Spectacle Spacer
Spectacle blind vs spectacle spacer, are they the same? They play a different role in the piping system. Spectacle blind acts as temporary seals, separating components for maintenance. It is made up of solid plates that are held together using flanges. Spectacle spacer, on the other hand, keep pipes apart while enabling fluid to travel through perforated or open designs. The spectacle spacer preserves partial flow continuity while the spectacle blind entirely blocks the flow. The application dictates the choice: spectacle blind for total isolation or spectacle spacers for controlled flow diversion. Both are key tools, and their selection is based on specific operational requirements, making them essential in pipeline management.
Spectacle Blind vs Spectacle Spade
Spectacle blind vs spectacle spade, what are the differences? The function of spectacle blind and spectacle spade has a huge difference in a piping system. Spectacle blind is used to halt the flow entirely in a piping system. However, a spectacle spade, also known as a paddle blind, maintains separation between pipes by guiding flow through its aperture. Spectacle blinds guarantee total closure of the pipe system, whereas spectacle spades provide controlled flow redirection. The choice between the two is determined by whether isolation or regulated flow is required.
Pipe Fittings
Pipe Fitting Selection Criteria
The choice of pipe fittings is critical as it has a significant impact on the efficiency, longevity and safety of any piping system. To ensure optimal performance and long-term reliability, a number of critical parameters should be carefully evaluated.
Material
The compatibility of fittings' material needs to be valued. The using material of chosen fittings and pipe must be compatible to avoid corrosion or chemical reaction. Moreover, the assessment of the piping system's pressure and temperature requirements is a must. If the chosen fittings's material does not assess the piping systems might cause leaks, bursts, and overall system failure.
Types of Fitting
There are several types of fittings such as elbow fittings for changing fluid direction of the piping system, reducer fittings for size transition and more other types. The chosen fittings must be able to perform its function in the piping system. Additionally, the ease of maintenance, installation and repair of fittings also need to be considerate. The ease of access will reduce piping system downtime and lower maintenance cost.
Adhering Regulation
The fittings you had chosen must be adhering to the industrial standard and regulations. Verify that selected fittings must meet relevant codes to ensure there is safety and compliance. Also, budget constraints and quality of pipe fittings should be weighed. Opting for cheaper fittings might result in higher costs in the long run due to frequent replacements and repairs of piping systems.
The selection criteria of pipe fittings must be considered through its material types and it must adhere to regulation. The material of fittings must suit the piping system, the fitting can perform all its functions and comply with the factory's operating standards. Choosing the right fittings can ensure the piping system can run efficiently and withstand harsh operating environments.
Purpose of Pipe Fitting
Pipe fitting plays important role in a piping system, they stimulate the fluid flow, changing direction and connecting different sizes of pipes. Pipe fitting protects the integrity of the system by avoiding leaks and optimizing flow efficiency. They enable complex pipe networks by accommodating changes in pipe direction, diameter and branching. Not only in industrial areas, pipe fittings are also available installed in other areas such as residential areas, plantation and more other areas that are necessary in building connections to support fluid and gas movement.