Tae Heung Forging Co., Ltd.
Founded in 1986, THF (Tae Heung Forging) is a professional manufacturer of forging and flange in Korea. THF obtained International Certification included ISO 9001, ISO 140001, OHSAS 18001, PED 2014/68/EU, DNVGL, ABS. As a forging specialist, THF meets the needs of clients in a wide range of industrial fields like Oil & Gas, Petrochemical, Power Generation.
Our company philosophy has always been, customer satisfaction by providing an excellent standard of customer service and strict quality control procedures. We are continually adding our product lines to offer the highest quality. Our goal is to grow through innovation and determination to become the world's leading company in diversified businesses. 

S.M.T. Engineering is a Korean manufacturer of flange, forged fitting, butt weld fitting & custom made forging. We have supplied for many projects to local and international companies, leveraging our modern facilities and latest technology.
Client's satisfaction is our goal. We are committed to delivering high-quality products with a fast turnaround time. We ensure our products are being developed under a strict quality control system so that we can continue to deliver our promise to offer you the best solutions that meet your specific needs.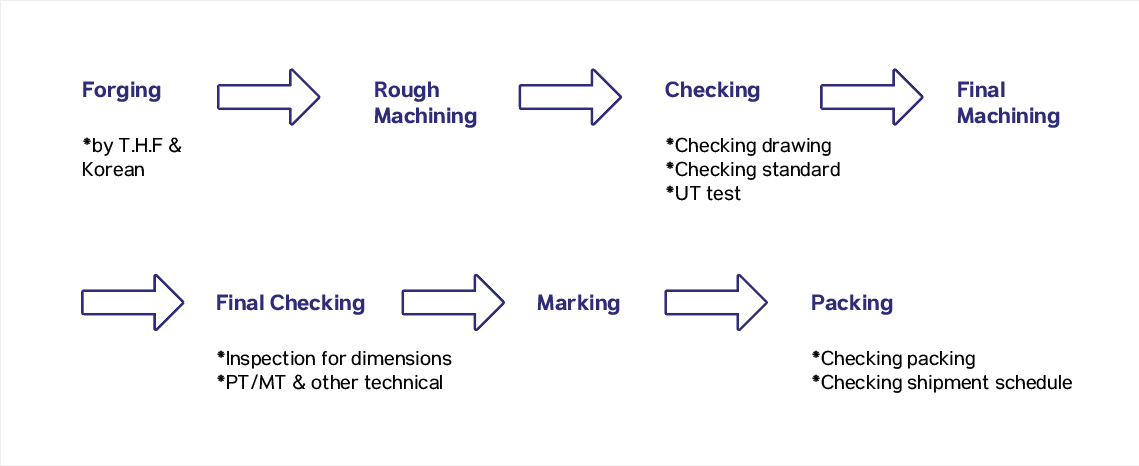 BEELINE CORPORATION is a trusted KOREAN brand that produces high-quality products such as dish heads and rolled shells, which are the major components of a pressure vessel. We also supply associated products such as pressure vessel steel plates.
Type of Heads Supplied: Semi Elliptical Head, Torispherical Head, Hemi Head, Dished head,
Flat Head Forming Capacity: -Cold forming thickness 4mm ~ 100mm -ID 300mm ~ 6600mm
Common Material: SA516 Gr70, SS400/A36, SA240TP 304,316
Material Origin: KOREA – POSCO & DONGKUK
Manufacturing standard: ASME code section VIII Div. 1 Paragraphs "UG-79″,"UG-81" *
Associated Services: NDT, Heat Treatment, & third-party inspection.
Capacity: -Thickness 3mm ~ 200mm -Maximum width 6000mm depend on diameter -ID 300mm ~ 7000mm

Sichuan Jinglei Science And Technology Co., Ltd.
Established in 1988, Sichuan Jinglei is a leading explosion clad plate manufacturer in China. Explosive welding clad plate is a composite steel plate made by bonding stainless steel to carbon steel or low alloy steel plate. Therefore, clad steel plate not only has sufficient strength required of structural materials (base metal) but provides other functions including resistance to heat and corrosion(cladding material) and is still lower in cost than similar products made entirely of the cladding material. Jinglei clad plate have been used in many industries such as Petroleum, Petrochemical, Chemical, Water conservancy, Water and Electricity, Light industry, Environmental Protection, Salt Making, etc.

Taeyang Steel is a 10-year-experienced company that does business in accordance with ISO 9001 specifications in South Korea. They provide pipes with a wide range of dimensions around the world for a number of different industrial sectors, including carbon steel grades, medium and high alloy steel grades, and stainless steel. Petrochemical facilities, heat exchangers, boilers, and pressure equipment are the most common applications for energy use. The most common mechanical applications are automotive (cars and motorcycles), pistons, cylinders, oleo-dynamic applications, and general mechanicals.