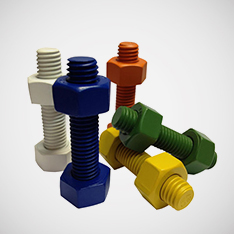 Trusted Bolt and Nuts Supplier In Malaysia
Saliran Group has over 10 years of expertise in trading and supply of high-quality Bolts and Nuts with numerous happy customers all around the world. We supply a variety of Bolts and Nuts such as Stud Bolts & Heavy Hex Nut, Hex Bolts & Heavy Hex Nut
Bolt is a fastener that is often combined used with a nut. The nuts consist of a head and a hollow circular cylinder body whereas the bolt consists of a head and a solid cylinder body. The presence of internal threads allowed nuts can be easily tightened on the bolt. These nuts contain various locking mechanisms to prevent loosening caused by vibration of the machine parts when it joined.
| | |
| --- | --- |
| | Stud Bolts & Heavy Hex Nut, Hex Bolts & Heavy Hex Nut |
| | |
| | |
A193B7, B16, B7M, B8, B8M, A320L7, L7M, L43

A194GR2H, 2HM, 4, 7, 7M, 8, 8M

Fluorocarbon Coated, Hotdip Galvanized, Cadmium Plated, Zinc Plated.