Difference between Seamless and Welded Pipe
Seamless and Welded pipe are the most prominent comparison among different types of piping techniques. To differentiate Seamless and Welded pipe, many factors should take into accounts from Manufacturing process, Length and Size, Working Pressure and Corrosion Resistance, Material Availability and Lead Time until economy and testing.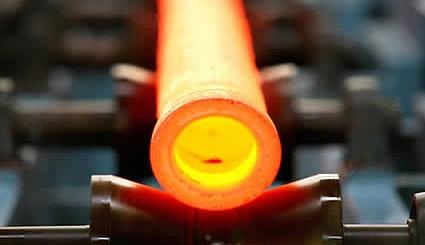 Seamless Pipe VS Welded Pipe
1. Manufacturing Process
Seamless pipe are derived from large piece of solid cylindrical steel, known as billet which is then heated and stretched until it forms into a hallow tube with desired dimensions.
Welded Pipe are manufactured from a long-coiled strip, known as skelp which is then rolled by a bending machine until it formed into a tube with desired dimensions. Welding pipe available in a few types such as ERW, SSAW, LSAW, DSAW.
2.  Length and size
Due to the difficulties in manufacturing process, Seamless pipe is relatively shorter. Generally, Seamless pipe is produces in nominal sizes from 1/8" to 36"
On the other way round, welded pipe does not have any length and size limitation. Hence, in terms of length and size availability, welded pipe is better. 
3. Working Pressure and Corrosion Resistance
"Seamless" pipe which named as no seam (crease) or welded joint found, caused a higher working pressure compared to welded pipe. Absent of seam allowed seamless pipe to resist more pressure and load. Hence, corrosion resistance is higher.
Conversely, "Welded" pipe which consist of seam due to welding has 20% lower working pressure. Hence, resulting a lower corrosion resistance. 
4. Material Availability and Lead Time
The manufacturing of seamless pipe required limited high strength material such as stainless steel, copper, carbon steel, titanium, Monel, Hastelloy, etc. Limited Materials and complex production process caused a longer lead time.

On the contrary, manufacturing of welded pipe made by long coiled strip which available in various different material. Hence, shorter delivery and lead time required.
5. Economy and Testing
Seamless pipe does not require weld integrity test. However, the complexity of manufacturing process had caused a high costing.

Conversely, welded pipe is more economic. It must be tested before use to build a piping system.
Looking for Seamless Pipe and Welded Pipe?  


Send us your spec, our 10+ Years experienced sales team is ready to deliver your products.