What is a Carbon Steel Pipe?
Carbon steel pipe is made of carbon steel which is an iron and carbon steel alloy that considered as a tough material. Carbon steel pipe is also the most widely used pipeline material for construction, structural, and liquid transmissions for water, oil, and gas. Hence, it is utilised in a wide range of heavy-duty industries. This including infrastructure, ships, distilleries, and chemical fertiliser equipment because of its strength and capacity to endure stress. Therefore, it must withstand the application's pressure, temperature, and corrosion conditions. 
Furthermore, these requirements are met by using pipe manufactured in accordance with an ASTM or API standard. The standard grades of carbon steel pipe include API 5L Grade B, X42 to X70, ASTM A106 B, ASTM A53 B, ASTM A252 Grade 3, and ASTM A333 Grade 6, among others.
Applications
Carbon steel pipe is used for both above- and below-ground liquid, gas, and steam services. It should not be used in corrosive services, but it can be used in caustic services.
Benefits 
Safe & Long lasting
Carbon steel pipe is both safe and long-lasting. It is an ideal material for structural applications. It is because it is shock resistant and unaffected by harsh environmental conditions such as pressure or extreme weather.
Cost-effective
Because of carbon steel's incredible strength, carbon steel pipe can be made thinner and with less material while still transporting large volumes. As a result, it is a cost-effective material. 
Environmentally friendly
Furthermore, carbon steel is not only less expensive, but it is also recyclable. Hence, it is environmentally friendly and cost-effective.
Flexibility
Moreover, it is a versatile material because it is simple to manufacture. Therefore, it can be made in various thicknesses and sizes. Also, It is simple to cut and bend to fit wherever it is required.
Grade of steel used
Carbon steel pipe comes in a variety of grades and strengths, as well as wall thicknesses. As we have seen, the allowable stress is used to determine the required wall thickness. Hence, the allowable stress is determined by both the material's metallurgy and the manufacturing method.
ASTM & API
Other than that, the various ASTM and API piping specifications provide guidelines for both metallurgy and manufacturing method. For example, ASTM Specifications A-53 and A-106, as well as API Standard 5L, are the most widely used piping specifications for process lines. 
Schedules
Also, the primary wall thicknesses used are defined by schedules, such as Schedule 40, and weights, such as STD. In Grades A and B, ASTM A53 and ASTM A106 pipe are fabricated SMLS or seamed by electric resistance welding. However, tensile strength is higher in grades B. Besides that, ASTM A106 is available in three grades, A, B, and C, in descending order of tensile strength.
Manufacturing Methods
There are numerous methods for producing carbon steel pipes, and each one results in a pipe with a unique set of properties. Strength, wall thickness, corrosion resistance, and restrictions on temperature and pressure are a few of these qualities. For instance, pipes with the same wall thickness but different manufacturing processes may have varying strengths and pressure limits.
Seamless pipe is created by piercing a solid, near-molten steel rod, known as a billet, with a mandrel, resulting in a pipe with no seams or joints. Figure 1.0 depicts the manufacturing process of seamless pipe.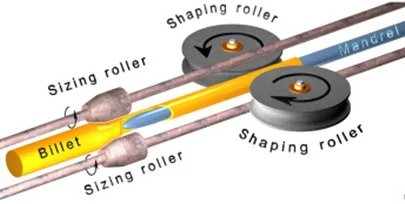 Seamless Pipe

Size Range

1/4″ (8mm) – 48″ (1200mm)

Schedule

SCH 10, 20, 30, 40, 60, 80, 100, 120, 140, 160 SCH, STD, XS, XXS, SCH 10s, 40s, 80s

Standard

ASME/ANSI B36.10, B36.19

Specification

Carbon Steel

ASME/ASTM SA/A106 Gr A/B/C
Butt-welded pipe is made by passing hot steel plate through shapers, which roll it into a hollow circular shape. Forcing the two ends of the plate together will result in a fused joint or seam. Figure 2.0 shows the steel plate as it begins the process of forming a butt-welded pipe.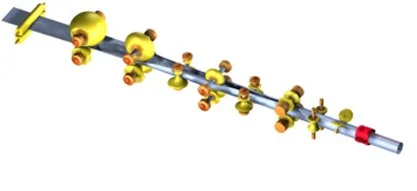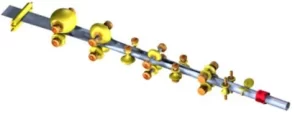 Spiral-welded pipe is the least common of the three methods. The spiral-welded pipe is made by twisting metal strips into a spiral shape, similar to a barber's pole, and then welding the edges together to form a seam. Because of its thin walls, this type of pipe is limited to low-pressure piping systems. Figure 3.0 depicts spiral-welded pipe prior to welding.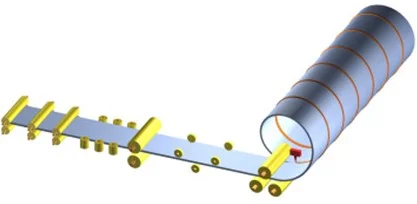 Welded Line Pipe

Thickness

6mm ~ 200mm

Standard

API 5L, ASME/ANSI B36.10

NDT

API 5L Annex E ( as per client requirement)

Heat Treatment

As per request

Coating

Internal and external coating available as per request
 Specification

Carbon Steel

API 5L Gr.B
Size Range

ERW

2″ (50mm) ~ 18″ (600mm)

LSAW

16″ (400mm) ~ 60″ (450mm)
Lastly, the figure below shows the three previously described pipes in their final configuration.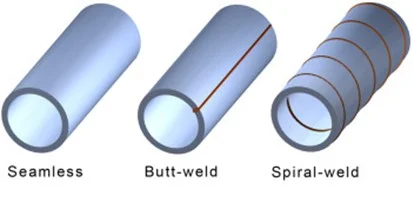 Saliran Group has over 10 years of experiences in trading of a wide range of flanges, pipes, valves, fittings, and related parts and accessories ("PVF products") as well as steel products with numerous happy customers all around the world. We supply a variety of carbon steel pipe including carbon steel seamless pipe, carbon steel welded pipe, and carbon steel pipe flanges. 
Click on the link below to contact us now!