What is a Weld Neck Flange?
Weld neck flange is also known as a tapered hub flange or high-hub flange. Weld neck flange is a type of flange that can relocate stress to the pipes, resulting in a reduction in high-stress concentration at the flange's bottom. There are two types of welding neck flanges: the first is used with wipes, while the second, longer type is used with process plants rather than pipes. Moreover, it is made up of a round fitting that extends beyond the circumference's rim. These flanges, which are typically made of forging, are welded to pipes.
Furthermore, the rim is drilled with numerous holes to allow the flanged to be attached to a bolted flange. Because of the structural valve, this design is far superior. And the flanges are easily identified by the long-tapered hub that gradually extends over to the wall thickness of a pipe or fitting.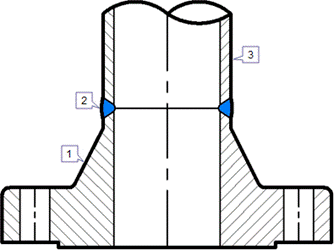 Product Structure
Weld Neck Flanges are flanges that are designed to be buttwelded to a piping system. This type of flange includes numerous specifications. Besides that, the long-tapered hub serves as an important reinforcement in a variety of applications involving high pressure, sub-zero, and/or elevated temperatures. Also, under conditions of repeated bending caused by line expansion or other variable forces, the smooth transition from flange thickness to pipe or fitting wall thickness effected by the taper is extremely beneficial.
It is also more expensive due to its long neck and the cost of people to connect the flange to the pipeline or fitting. However, it is preferred for high-stress applications. Moreover, the stresses are transmitted to the pipeline via the necks, or hubs. Furthermore, the gradual transition of thickness from the base of the hub to the wall thickness at the butt weld reinforces the flange.
Type of Weld Neck Flange
Weld neck flanges come in two shapes: one with a reducing neck, known as reducing weld neck flange, and one with an even diameter of a typical long neck, known as long neck weld flange.
i. Reducing Weld Neck Flange
As the name implies, it is a combination of a pipe reducer and a flange that can be welded directly to a smaller pipe.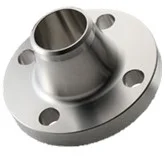 ii. Long Weld Neck Flange
Long weld neck flanges are commonly found on vessel nozzles and equipment. Moreover, the flanges are made to fit the inside diameter of the pipe or fitting. Also, it is bored to match because it reduces the corrosion and turbulence that occurs inside the pipe.

Application of Weld Neck Flange
Welded neck flanges have a long-tapered hub and are frequently used in high-pressure applications. It is critical to specify the schedule pipe used when ordering a flange. This is due to the inside diameter of flange matching the inside diameter of your pipe. This flange's buttweld joint with the pipe, combined with the tapered hub, makes it very resistant to dishing and a very sturdy connection. These flanges are ideal for extreme temperature fluctuations and environments where the flanges will be bent and handled frequently.
Advantages 
Weld neck flanges are appropriate for use in hostile environments with temperature, pressure, or other sources of stress. Also, this type of flange achieves resilience by sharing environmental stress with the pipe to which it is welded. Other than that, this flange has been used successfully at pressures as high as 5,000 psi.
On the other hand, its name from the flange's neck, which is welded to the end of a piping system. Hence, it is intended to transfer stress to the pipe, reducing high stress concentrations at the flange's base. By that, it is more expensive due to their design and engineering, as well as the increased material.
Material & Grades of Weld Neck Flanges
Specification

Carbon Steel

High Yield Carbon Steel

      

ASTM A694 F42/46/52/60/65/70

      

ASTM A707 L1~ L8

Low Temp Carbon Steel

       

ASME/ASTM SA/A350 LF1/2/3/6

Chrome Moly

       

ASME/ASTM SA/A182F2,F5,F9,F11,F12,F22,F91

Stainless Steel

       

ASME/ASTM SA/A182F304/ 304L,316/ 316L, 309, 310, 310H, 317/317L,321,321H,347,347H

Duplex/ Super Duplex

       

ASME/ASTM SA/A182F51, 53, 55, 60

       

UNS S31803/ S32205/ S32750/S32760

Nickel Alloy

       

ASME/ASTM SB564

       

UNS N02200 (Nickel 200), UNS N02201 (Nickle 201)

       

UNS N04400 (Monel 400), UNS N06600 (Inconel 600)

       

UNS N06601 (Inconel 601), UNS N06625 (Inconel 625)

       

UNS N08825 (Inconel 825), UNS N010276 (Hastelloy C276)

Remark

       

HIC, PED 97/23/EC, NACE MR0175 available
Looking for flanges, fittings and pipes?
Saliran Group has over 10 years of experiences in trading of a wide range of flanges, pipes, valves, fittings, and related parts and accessories ("PVF products") as well as steel products with numerous happy customers all around the world. We supply variety of flange types such as blind flange, slip-on, weld neck flange, socket weld, threaded, lap joint flange, and orifice.
Click on the link below to contact us now!