The shape of a lap joint flange is similar to a slip on flange; it has a curved radius at the bore that can connect with a stub end fitting and slide over the pipe. The pipe is usually welded to the stub end so that it can freely rotate around the stub end. Lap joint flange and stub end assembly are primarily used in piping systems that must be dismantled frequently for inspection or routine maintenance. 
To reduce the overall cost of the connection, a stub end will often be made of a special material grade (nickel alloy), with the lap joint made of basic carbon or commodity stainless. Naturally, for uniformity, we recommend that both items be of the same grade. However, your application will determine what is best and/or necessary.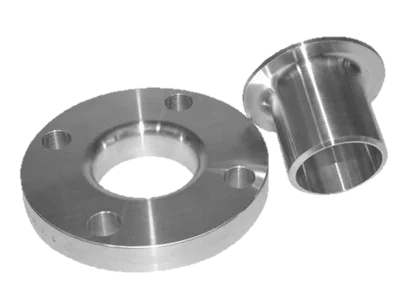 Advantages and Disadvantages 
The composite two-piece construction gives the lap joint flange two clear benefits when in operation. Imagine a lapped joint piping connection where all "wetted" sections must be made of a costly alloy (such as nickel, zirconium, tantalum, or titanium, etc.) to resist corrosion. The pricey, corrosion-resistant alloy can be used to create the stub end. Besides that, common carbon steels can be used to create the flange that serves as the backing flange. Therefore, it is less expensive than an entire alloy flange. On the other hand, it is not physically welded to the pipe. Hence, it may rotate easily to align bolt holes, making assembly and disassembly much simpler. Also, this make it easier to operate a piping system that must frequently be disassembled for inspection or standard maintenance. 
However, the use of the flange has several drawbacks. The flange bore's internal surface and the stub ends' external surface have produced fissures that can easily become contaminated. Moreover, the accumulated contaminants might be problematic and cause crevice corrosion. At the design temperature specified by ASME B31.3, the longitudinal strains brought on by pressure, weight, and thermal expansion may build up and surpass the fundamental allowed stress. As a result, it is often utilized in moderate service, where the strains placed on the flange connection by the pipe are minimal. It is because the material of the flange may differ from that of the stub end, galvanic corrosion may occur in some circumstances. 
Usage of Lap Joint Flange 
Typically, low pressure applications require for the usage of the flanges. Hence, it is not appropriate when the flange pair must support heavy weights, Moreover, it may be necessary for some pipes, such as a metal pipe that has previously been lined with plastic. 
Stub End – Key Fittings for Lap Joint Flange
A backing flange for a lap joint is always utilized with a stub end. Stub ends come in three main types: Type A, Type B, and Type C. 
Type A:
The typical lap joint support flange can be machined to accommodate the Type A stub end.
Type B:
The standard slip on flange is intended to be used with Type B stub ends. 
Type C:
The type C stub end can be utilized as either a slip on flange or a lap joint flange. 
Furthermore, stub end patterns can be extensive or short in length. Long pattern ends are also referred to as ASA Stub Ends. The shorter end is used with ANSI 300 and 600's bigger flanges. They are frequently utilized in sizes ANSI 900 and higher.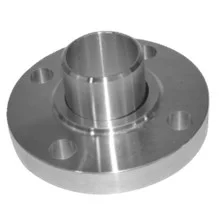 Differences Between Lap Joint flange and Slip On Flange 
In essence, a slip on flange is a ring that fitted over the pipe end. Additionally, the flange face must be far enough from the pipe's end to allow for the application of a weld to the inner diameter. Moreover, the slip on flanges outside diameter can be welded to the backside of the flange. Slip on flanges cost less to make and are simpler to align than weld neck flanges. 
Besides that, slip on flange and lap joint flange are quite similar. Also, it almost seems identical from the outside which is the holes and sides of the lap joint flange. However, it has a curved radius on the reverse side to allow the lap joint stub end. On the other hand, the slip on flange can serve as the lap joint flange when type B or type C stub ends are utilized.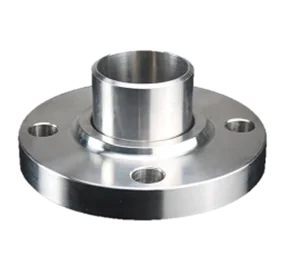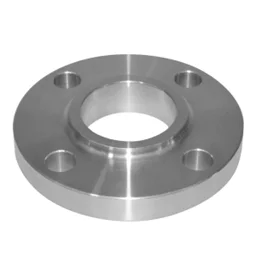 Looking for flanges, fittings and pipes?
Saliran Group has over 10 years of experiences in trading of a wide range of flanges, pipes, valves, fittings, and related parts and accessories ("PVF products") as well as steel products with numerous happy customers all around the world. We supply variety of flange types such as blind flange, slip-on flange, weld neck flange, socket weld flange, threaded flange, lap joint flange, and orifice flange.
Click on the link below to contact us now!