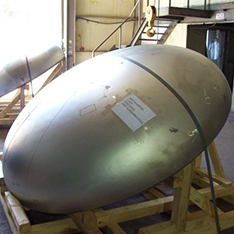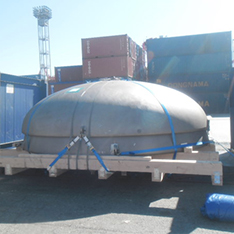 Trusted Dish Head Supplier In Malaysia
Saliran Group has over 10 years of expertise in the supply of high-quality dish heads with numerous happy customers all around the world. We supply a variety of dish heads types such as Semi Elliptical, Torispherical, Hemi Head (Crown & Petal), Dished Head, Flat and Ellipsoidal Head.
Dish Heads also known as dished ends or tank heads are an important component of pressure vessels. There is a multitude of types and sizes of dished heads used in different industries. These dished heads are handled in various methods such as deep drawing, cold forming, spinning, dishing, and flanging, as well as forming the heads in crown and petal segments.
Semi Elliptical Head, Torispherical Head, Hemi Head (Crown & Petal), Dished Head, Flat Head, Ellipsoidal Head

ASME code section VIII Div. 1 Paragraphs "UG-79", "UG-81"

-Cold and Hot forming thickness 5mm ~ 200 mm
-Diameter: 200mm – 10000mm including segmental construction

Posco & Dongkuk, Europe, Japan

NDT, Heat Treatment, U-Stamp Partial Data Report & Third Party Inspection
SA/A516 GR 60/65/70N
SA/A 283,285
SA/A 36, S275JR, SS400
SA/A 537 CL ½

SA/A240GR304/304L, 316/316L, 317/317L, 321/321H, 347/347H, 310S

SA/A 240 UNS S 31803, S32205, S32750, S32760, S31254

UNS2200 (Nickel 200), UNS2201 (Nickel 201),
UNS4400 (Monel 400), UNS5500 (Monel K500),
UNS6600 (Inconel 600), UNS6601 (Inconel 601),
UNS6625 (Inconel 625), UNS8825 (Inconel 825),
UNS 6022 (Hastelloy C-22), UNS10276 (Hastelloy C-276)

HIC, PED2014/68/EU, NACE MR0175, Weld Overlay available